Exciting events in our school
The world famous author Saviour Pirotta came to our school!
Saviour Pirotta came to our school as part of our World Book Day celebrations. He helped us to learn about how to be an author, telling us stories from his books and how he gets his ideas. He talked to year 5 and 6 about Shakespeare, to years 4 and 3 about mythical and legend writing and to years 2,1 and reception about fairytales. It was AMAZING!!! We loved meeting him and some of us even bought signed books at the end of the day. Here is our webzards interview from the day:
Webwizards at work: Our Saviour Pirotta Interview
Rosie: Saviour Pirotta, this is our Quickfire round. Favourite food? Pizza
David: Favourite colour? Blue
Ashleigh: Favourite Disney character? Mickey Mouse
Lleyton: Favourite film? Pirates of the Caribbean 1
Lilly Y: Favourite song? Eleanor Rigby by The Beatles
Sophie: Favourite book? The Lion, The Witch and The Wardrobe – author Lewis Carroll.
Isaac: Most famous person you have ever met? The Queen
Evie: Favourite sport? Water Polo
Nixon: Favourite TV show? Skippy the Bush Kangaroo
Thomas: Favourite city in the world? London
Anna: Favourite word? Amazing!
Rosie
What was the first book you wrote and why did you write it?
It was 'The Flower From Outer Space' which is about the environment. A boy sees a strange flower, signals into space with it, a space gardener arrives and helps to have new plants grow on the Earth.
Ashleigh
Where are your books most well-known? How long have you been writing?
I have been writing for 38 years and my books are best known in Greece, Italy, England and Brazil.
Lleyton
What is your favourite book you have written?
The Golden Horse of Baghdad.
David
Where is your favourite place in the world to go and why?
Scarborough, which is where I live now. I write my books in a coffee shop called 'The Clock Café' on Scarborough seafront.
Sophie
What inspired you to become an author?
I have always loved stories and wanted to write. I used to write with chalk underneath my Granny's table, my favourite thing to write was 'Saviour is an author!'
Thomas
What is your favourite animal and do you have a pet?
I love owls and birds; I used to have a pet dog until I began to travel too much.
Sophie
Any books you wish you had written?
The Lion, The Witch and The Wardrobe or The Silver Sword because the wardrobe portrays a link to a magical world. I thought The Silver Sword was very interesting.
Anna
Who is your favourite character?
Long John Silver – a pirate.
Nixon
What types of books do you read – have you a favourite genre?
I love historical fiction and like to write books about the past, I love cookbooks too as cooking is relaxing. I like cookbooks with foods in from other lands.
Lilly Y
If you were to write a story about our Webwizards, what would the plot be?
The character would watch or read a website and then the Webwizards would help them become part of the story when you were reading or watching the screen.
Evie
What are your hobbies when you are not writing?
Cooking and collecting books. I have a whole room that is a library in my house.
Isaac
How do you choose an illustrator?
I don't, the publishers do. For example, The Unicorn Price had the pictures drawn by Jane Ray from my plan and then I wrote the rest of the words to match her illustrations. Sometimes I don't even see the book until it is completely finished and published.
Lleyton
Can you give us any more clues about other books you wish to write?
I can't remember them all, but I do want to write some ghost stories from another world and a book about chocolate, where the wishes come true when you stir the melted chocolate maybe?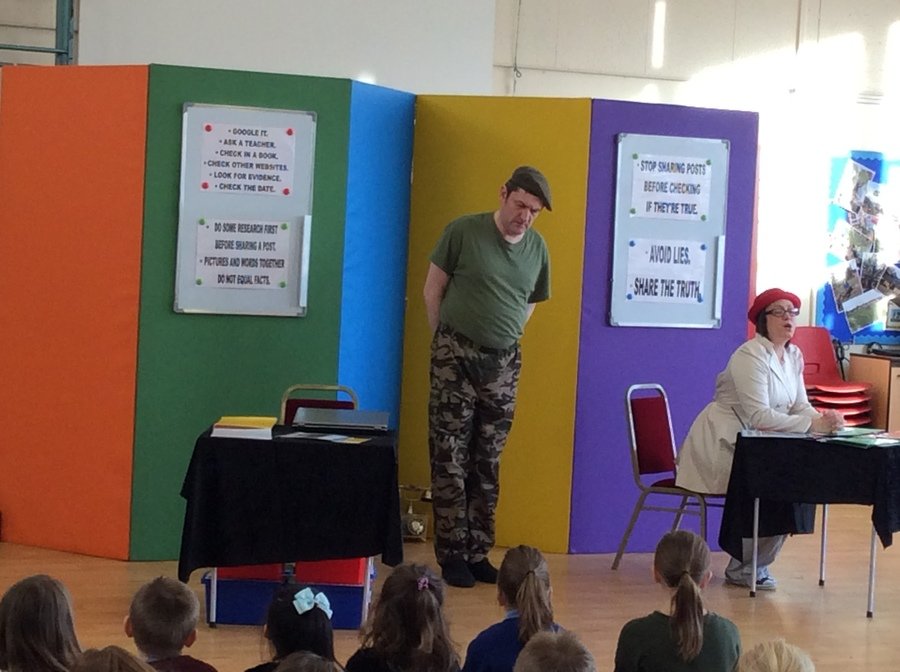 Internet Safety Performance
On Friday, we were entertained and informed by a theatre group (called 'Barking Up the Right Tree') who came to our school to teach us about how to stay safe online. They performed to both Key Stage One and Key Stage Two. We all thoroughly enjoyed the interactive show which left us knowledgeable about using technology safely.
Year 2 review our New College Durham performance visit.
Today (12.12.2018) the Cat in the Hat came into our school hall.
There wasn't only a cat in the hat though, there was also The
Lorax, Horton (who hears a who), The Sneeches and a bragging
rabbit, bear and worm! Some students from New College in
Durham had come to share their Christmas production of Dr
Seuss books to us. We loved it! It was spectacular, we even
loved it when one of the actors sprayed us with water as we were
sitting right at the front! It was really interesting because
there was a mixture of people in costume and costume changes too;
some of the actors had more than one role. We're really glad that
we only have one role each in the Nativity because it must be really hard to learn so many lines and all that action must be super-tiring! We're not sure we could do the quick costume changes either! At the end we gave them all a huge round of applause because we were so impressed! We hope they visit again.
Remembrance Day 2018 - 100 years since the end of World War 1.
This year our Remembrance Day work was particularly important as it is the Centenary of World War One. We know that poppies are one of the symbols of remembrance as they grew on the battlefields after the fighting stopped. Each of our year groups created some work linked to the the centenary and then decorated their windows of the classrooms with poppy designs to pay their respects.
On Friday 9th November we held a special assembly where our whole school came together to learn about Remembrance and to hold a silence. Lots of us went to our local Cenotaphs in Witton Gilbert, Sacriston and Langley Park to pay our resepcts too. Lewis and Ruby laid our school wreath at the Witton Cenotaph service after Nixon and his family had prepared it for the event. Our year 6 group also sold poppies and poppy products to raise funds for the Royal British Legion.
Our webwizard group have shared the work online so that our whole community can share our efforts.
Tagtastic - Rugby Legend Katy McLean comes to WGPS!
A Webwizards exclusive report
England Superstar Katy McLean came into school on Tuesday 9th October to teach us all about Tag Rugby. She is the England Women's team captain, she has played for England 99 times. She asked us all to keep our fingers crossed that she gets her 100th cap for the next match! Some of us were a little bit surprised to discover that England had a Women's rugby team, and even more surprised when we discovered how good they are! Katy said she thinks it is really important for girls to enjoy playing contact sports - we told her that at our school, everyone has the right to play as long as they keep themselves safe!
During the day every class took part in a rugby training session, we had to wear tags around our waists (red, yellow, purple, orange or blue coloured ones) and the other team had to chase us and grab the tags safely. Then we played some proper tag rugby matches. It was great fun and we really enjoyed getting fit and healthy!
To end the day, Katy led a really inspiring assembly all about her journey from primary school pupil to rugby legend. She told us all about her triumphs and successes, the medals she has won and showed us the caps she has won for playing in the World Cup and the Olympics. Some lucky children even got to wear them and her rugby shirts! She even told us about the times when she felt that the other team have played better, and although her team lost or missed out on a medal (like at the Olympics when Great Britain came fourth) that the team can learn from it and use it as motivation to play better next time.
We loved having a superstar sportsperson visit our school and we are hoping to welcome more visitors to help us learn in the future!
Harmony Day!
Last week was a very special week as we enjoyed all things artistic! Our harmony Day held on Tuesday was inspired by the Prince's School of Traditional Arts who explore art in our natural environment and think about how subjects, such as science and maths, work together with art in harmony. We had a range of activities to try and it was incredibly impressive to see how engaged the children were from Reception to Year 6. The activities included:
designing and making glass butterflies

designing stained glass windows

making paints with natural materials

building sculptures

printing and mark making

photography of shapes in our environments

creating Sierpinski triangles

botanical art work

marbling to create a beehive
The work will be displayed through out the school over the next term. Here are a few photographs of the day...
Democracy in action - what would you do if you were Prime Minister?
This week in school we were learning about democracy, with all classes undertaking some work linked to the General Election. Our younger pupils focussed on why people vote and how their decisions help us, with the older children exploring the political manifesto documents for the main parties and discussing the areas that were important to them.
Year 6 focussed on learning about the party leaders and the manifesto's representing all of the main political parties (and also those who were in action in our locality). This is what they did, in their own words:
When we investigated our local candidates we then voted to show who we would support. Our class would have agreed with the Durham City constituency vote as we had 14/23 people voting for Roberta Blackman-Woods, the Labour candidate who polled 26,772 votes out of the 48,324 cast. 67.9% of the voters shared their views in this election, which we were rather surprised about, we hoped that it would be higher. In our class 83.3% of our families voted, significantly higher than the local figure.
Next, we investigated the areas of the manifesto's that were important to us. Our priorities were:
1. NHS/health services
2. Defend our country against attack
3. Education
4. Benefits (particularly money for families)
5. Emergency services
6. Food and water
7. Housing
8. Taxes
9. Power (electricity)
10. Transport
11. Communications
12. Children's services
Then we wrote our own political speeches, sharing what we would do if we were to be selected as the next Prime Minister of the United Kingdom. We shared our speeches with each other, and six candidates were chosen. They presented their speeches to our class and then we voted... Dylan was picked as our class Prime Minister. Mrs Curry said the standard of our speeches was very high, and Mrs Nelson was wowed by our understanding of political issues in current society, and that she might consider us for her vote if we were really standing for election!
We recorded our speeches too - you can watch them soon on our class webpage and decide who you would vote for.
We really enjoyed learning about democracy and will be very interested to follow what happens over the coming weeks - will the hung parliament be dominated by one party, a coalition or will there be another election soon?
Drama - With a Twist!
On Thursday 25th May, M&M productions came into our school and our year 1-6 classes watched a performance of 'Oliver Twist'. It was a musical performance that was extremely humourous and we were all joining in - there was even a role for us all to play as we had certain lines to say when the doors opened and whenever they talked about gruel (the food from the era in the workhouses). When the songs were playing we had to clap our hands in rhythm... some of us found this trickier than we had expected! There were two pupils from year 1 who took an even further role - one of them held a magic handkerchief and performed a magic trick within the show. It was great!
At the end of the show year 6 stayed in the hall and the staff from M&M - e.g. actors, lighting specialists, dee-jays) showed them how to work the desk so that the sound effects play at the right times and so that the lights move appropriately with the performers. Also, they played a game where they had to guess the sound effect and it was masses of fun. One of the actresses showed them the art of the quick-change -they had to time her and she only took just over 10 seconds to alter costume from Oliver Twist's mother to Oliver Twist himself! Our year 6 children all had a try at being a chef within the cast and it was very amusing; they had to arch their backs and do a vocal impression so the character sounded like the part should be. The cast gave year 6 the opportunity to ask questions to help them with the KS2 upcoming performance of Dragon Days, they even gave our pupils some ideas for acting our their roles.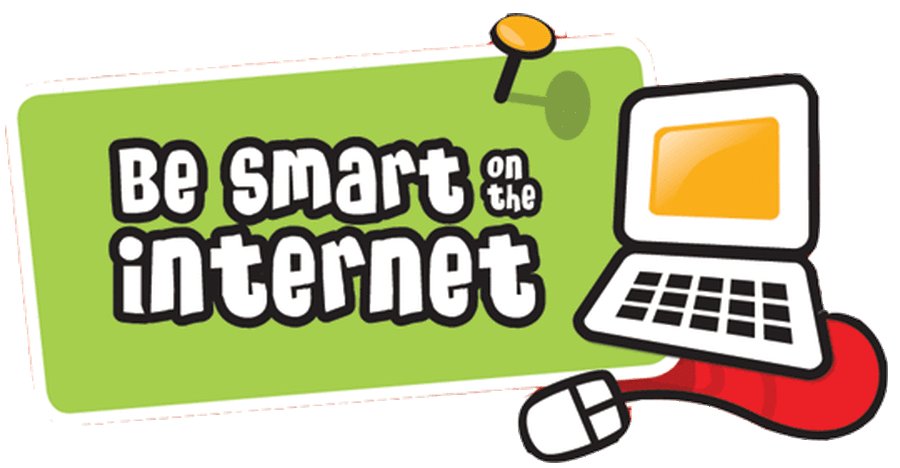 Animate 2 Educate help us learn about online safety.
Pupils from our whole school recently undertook workshops with Mr Bailey from Animate 2 Educate to help us learn more about online safety, both at home and in school. We learned about the ways that we can access the internet using everything from phones, watches, laptops, tablets, computers/PC's and even televisions. Technology surrounds us everywhere and can be very useful, however it can also be rather dangerous if you do not know how to use it safely and protect yourselves from online risk.
Our particular focus in upper KS2 was the use of social media and sharing of information using online methods. Most of the pupils in KS2 had regular access to apps such as Youtube, Snapchat, Facebook, Twitter, Whatsapp and Instagram at home, they were taught about how to manage these programs and be responsible online. It was interesting to know that pupils used message-sending applications rather than text messages or email to communicate on their phones, and also that they were aware of the legal age restrictions for the app (although the majority of pupils had continued accessing these applications). They were a little surprised to discover that even on apps that delete images or content after posting that anyone that has permission to see the content can screenshot the content so there is always the possibility that the information could go viral, even if you think you have protected yourself fully. Mr Bailey discussed how to change and restrict the default settings so that pupils had greater control over their images, messages and online content, how to ensure the settings are on 'private' and ensure that the general public are not given permission to view things they share. We hope that our children will go home, check their profiles are safe and discuss with their families/carers the risks they are facing online, and how they can gain help from the adults who support them.
Creative Writing with author and poet Nick Toczek
On Tuesday 25th April, fourteen pupils from Year 6 went to Esh Winning Primary School to meet a man of many talents. He was a magician, author and and script writer and he particularly loved writing poetry. He started teaching us how to write six word stories which we extremely enjoyed as it was very fun. Here are a few examples:
Shopped in Tesco, tripped over milk.
I drank poison, I am dead.
I see sharpie, I see wall.
Dad dancing, please help me now!
We also wrote vampire poems, all of the line endings had to end with the -ight or -ite sound. words like- marmite ,dynamite ,uptight, midnight, flight and many more to do with the subject. Later on in the day we wrote nonsense poems about an endless container and what we put in it. After this experience we also know how to do magic (as Nick Toczek was also a magician) so we all know how to levitate a pen, increase the amount of money in a game without anyone noticing, but we can't tell you how as a magician never reveals their secrets!
Easter egg-stravaganza
On the Wednesday before the Easter break our school community came together for our annual Easter egg decorating competition. It was amazing to see the effort that went into creating the eggs in the school hall and in the house groups; it was really hard to judge the very high standard of entries. Prize winners were awarded in the Thursday celebration assembly so that all pupils could see the winning entries. Have a look at the slideshow below to see all the fun that we had!
Spring term author visits: the amazing Maz Evans and the hilarious 2 Steves.
We've loved being inspired with our writing during workshops with our authors. We've magpied loads of amazing ideas about how to begin a story, create interesting characters that we empathasize with, write for enjoy,ent and how important editing is before a book is published.
To find out more about the time we spent with the authors, look at out class blogs or at our displays next time you are in school.
World Book Day - stories from around the world.
On Friday 3rd March 2017 our school celebrated world book day. In house groups we took part in a carousel of reading; the staff read us different stories from around the world. It was interesting, enthralling and funny; we heard tales from Japan, India, Africa, Hawaii, Canada, the United States of America, native American tales and from France. The teachers had made a fabulous effort with their costumes, we loved Mrs Shevills' native American effort and Mrs Curry's Cat in the Hat! There were lots of strange things we noticed too, like chopsticks in people's hair and snitches travelling around school.
Overall, it made us want to read more of some of the books we read - Fantastic Beasts and Where To Find Them is certainly going to be popular in many classes after today. We'd also like to visit some of the places on holiday, for example Hawaii and Africa. Happily, we were also complimented on our wonderful hosting ability - year 6 have all had shiny stampers for doing a great job leading each of the groups. It was a marvellous day.
Witton Gilbert pupils are super skippers!
Yesterday, on the 21st of November all of the children at WGPS took part in a skipping workshop with Skipping Chris. We had to run and jump over long skipping ropes (as individuals and in pairs/teams) and we learned different types of fun skipping techniques for use with our own shorter ropes. Skipping will really improve our fitness and will keep us healthy. It makes your muscles strong too!
We really enjoyed the day and we will be skipping more on the playground in future. The year 6 sports leaders will be running extra skipping games and activities on the yard, supported by our skipping experts who demonstrated their skills in the skipping school assembly. The day was awesome and once we have mastered the skills that Skipping Chris taught us, we're hoping to invite him back to school so we can learn some more!
On Monday 18th July 2016 Witton officially proved it had talent when school held its' talent show. Our three star judges (Mr 'Gleeson' Cowell, Cheryl Murdie and Aleesha Nelson) shared their thoughts and even used the magic red crosses to stop some acts in their tracks.
Our star turns today were:
Mini Selection - a superb all-girl dance act from year 6
The dabbers - girls and boys from year 6 with an well-presented and original dance routine.
The great gymnasts - three super year 2 girls who cartwheeled beautifully to the music of One Direction.
James the joker - Gleeson Cowell said he was very brave to stand on stage on his own - a super effort!
The jokers from year 4 - Aleesha thought they had a future comedy career ahead.
Amelia and Olivia read some Polish poetry - Cheryl said that she was very impressed with their language skills.
The Crazy Clowns joined us next, entertaining us with some juggling and squat twisters, compered by the lovely Kasey.
Hype-out joined us with a remix dance created from this year's most popular moves.
Next were the Ninja Bobs, who stunned us with their martial arts skills - Aleesha was on the edge of her seat!
The fliptastic four - three year 5 girls - did some amazing gymnastics accompanied by Isabelle from year 6, playing the violin.
Shona showed us her skills - brilliant work from our only year 1 talent today - confidently representing her class.
Team Spencer tried to break the hula-hooping world record - we'll be checking the length of time needed!
The Crackers certainly were; they performed an original mega-mix of music and dance to entertain us.
Our next year 3 act were called Amazing Singers and they sang us Shawn Mendes' Stitches, it was stunning. Simon wanted to sign them up to his new record label.
The Singing Snakes wanted to rule the world - Aleesha was impressed with their unique performance.
Rocking Racoons showed some year 2 rapping and breakdancing talents.
We then had an interval to enjoy the sunshine and get refreshed, before welcoming back our judges for the second show.
Ailsa - the wonderful year 4 violinist - began the second half.
The supersonic skippers were exhausting to watch but great fun.
Erin and Ava dedicated their act to Mrs Murdie; reading her favourite story - Cecil.
Our singing and dancing act - Girls of Destruction - wowed the audience.
The Marvellous Magicians were next and their tricks have left us all stunned - the Magic Circle clearly awaits! Aleesha was very impressed with the professionalism of the pair of year 5 pupils.
Finally, the Ghostbusters arrived - our school is now ghost-free thanks to their hard work!
Then it was time for the big decision; who were the winners of this year's Witton's Got Talent?
Three winning acts were selected - Hype-out, Girls of Destruction and the Marvellous Magicians. Well done to all that took part - we've really enjoyed your efforts! Witton Gilbert Primary School clearly has lots of talent!
Mystery at Magpie Manor - solved by Agatha Christie
A report from the WGPS Webwizards
Over the last few weeks KS2 have been preparing for their astonishing performance; Mystery At Magpie Manor. Set in the 1920's, the story told the tale of the 'Pica, Pica, Solid Silver Pitcher with the Magpie Picture', stolen by Percy Pica who was cunningly disguised as Ex Inspector Spectre Of The Yard. Wearing stunning costumes, the cast acted like professionals under the spotlights (guided by Alfie and Jack) with musical support by Sophie. Some of the highlights were: the Magpie Rag dance, the Charleston dance and the scenes featuring our scary magpies. Our audience thoroughly enjoyed the performance, they made amazing comments and our parents were extremely proud.
Durham Dash team triumph!
On Wednesday 15th June, eight pupils from WGPS represented school in the Durham Dash running race. After numerous trials, heats and training events at Witton, the evening had finally arrived where the children were due to run from the marketplace up to the cathedral and round the cathedral square, a total of 550 metres, most of it uphill. We knew we had some extremely talented runners in school but little did we know how fast they were in race conditions..... they ran their socks off! We interviewed Lucy and Rowan to tell you all about it!
"For our warm-ups they put music on, they had us dancing, doing stretches and generally moving about loads, then when were all ready the year 3 girls race began. That was followed by the year 3 boys race, and so on until we go to my heat, the year 6 boys race. Once we'd finished - I came first - we waited 15 minutes to cool down then the finalists were taken back down to the start line. Mrs Quiney came with us, from our school there was Felix (year 3 boys), Alfie (year 5 boys) and myself. The finals ran in the same order; from youngest to oldest. I didn't know how the other boys had done, but I did know that one of other boys in my race was a national champion in my age range, I'd raced against him before in other events. I sprinted off the line when the starting gun went; within five seconds I had taken the lead and I stayed in front all of the way round - I was feeling incredibly determined. There was a finishing tape and I got there first, it was exciting because everyone was cheering. I was interviewed by a man with a microphone for Smooth radio but I'm not sure when it will be on. I soon realised Felix had won too. The first, second and third prize winners had to stand on the podium and we were presented with medals by the Mayor; I was very proud of myself and my medal is great!"
Rowan, Year 6 boys Durham Dash Winner.
"I loved the entire event; it was the first time I've competed in a running race and it was lots of fun. It was frightening at first when I realised how many people I was running against, but I knew that as long as I tried my best everyone would be proud. I led most of my heat and was overtaken near the end, I was given a year 6 purple T-shirt to show I was a competitor and I'd like to wear it in PE sometimes instead of my house colour so I can show everyone. My mam video'd the race to show my dad as he works away so he couldn't watch me live. I know he'll be thrilled when he sees how well I did!"
Lucy, Year 6 girls runner.
The children who represented school were: Year 3 - Felix Scott and Zora Dubre, Year 4 - Nisha Jhauree and Joseph Kirtley, Year 5 - Saffron Scott and Alfie Myers-Smith, Year 6 - Lucy Salmon and Rowan Mason. Well done to all of our team!
We are sporting superstars!
As the weather in Witton Gilbert has been so rainy our sports day took place over two mornings rather than for one whole day. On the Thursday Morning we all took part in the non-competitive event where our year 6 sports leaders and house group representatives too charge; the worked with Miss Howells to create a brilliant carousel of activities such as penalty shootout, welly-wanging, balancing with bats and balls, basketball slam-dunk, target throw, slalom relays and much more. Here are some amazing photographs to show you all of the fab things we did!
The next day we had our races... there was a huge audience watching. We enjoy trying to win and there were lots of points on offer to help win the house trophy. Blue house were the overall winners! The next day we had our races... there was a huge audience watching. We enjoy trying to win and there were lots of points on offer to help win the house trophy. Blue house were the overall winners! The next day we had our races... there was a huge audience watching. We enjoy trying to win and there were lots of points on offer to help win the house trophy. Blue house were the overall winners! The next day we had our races... there was a huge audience watching. We enjoy trying to win and there were lots of points on offer to help win the house trophy. Blue house were the overall winners!
Finally, the bit all of our audience had waited for.... the grown-up's races! Look at the enjoyment and determination on their faces! We ended our event with a new race, requested by the families attending - the big toddle! Even our little brothers, sisters, cousins and friends took part!
A huge thank you to everyone who took part, organised, attended and volunteered their time to make our sports festival such a success.
Guy Bass - world famous author - visits WGPS!
On Tuesday 8th March Guy Bass visited our school. When working with KS2 he read some of his most recent books (mainly from the Stitch-head series), sang the most-amazing song about food and described how a talking pigeon called Jeff comes to him and gives him ideas! His latest book is inspired by his childhood and how he loved food - waste-not-want-not!!! hehehe! - where he showed us lots of photo-shopped imaged of a bearded baby Guy eating green goop, mini trees (also known as broccoli,) and lots of cereal. His father is a chocoholic and in his younger years Guy loved it too, taking any opportunity to steal chocolate, often getting into mischief. There's no wonder his books are so funny, having met him in real life.
In KS1 we made pictures in our assembly, Guy was pretending he was Spiderman and thinking that the floor was a wall. He said that Spiderman wasn't a normal person because he doesn't eat tea and he swings from trees... it was all a bit crazy! We also looked at lots of photographs, he pulled some brilliant faces! It was very, very, very fun!
All of our classes then had question and answer time; in year 5 and 6 he told us he had written 27 books, 25 of which had been published already and two coming out soon! He had some tips for us to help us be writers:
Keep on writing and saving ideas.

Make sure you edit and check because his editor makes him change lots of words!
In year 3 and 4 he showed us one of his favourite books - George's Marvellous Medicine - and he also showed us his notebook where he gathers all of his ideas. He flicked through the pages really fast and it was jam-packed with stuff that Jeff had made him think of! In year 1 and 2's question session he told us his favourite sandwich was a club sandwich (we have investigated this further and now know that means three slices of bread with pickles, lettuce, tomato, chicken and bacon inside).
At the end of the day there was a book signing in the school hall; lots of people bought a signed and personalised book for a bargain price of £4. Guy even drew little pictures in for us! We gave him a card that year 6 had made for him and he was very pleased. Guy told our Webwizards team that he would rate our school as a 10.6 out of 10 (which was off the scale) but we would be an 11 if we didn't smell so much... of course he was only joking!! He was hilarious! If invited, he definitely wants to come back, we'd love to work with him again.
WGPS Webwizards team.
Two authors in one week... introducing Kjartan Poskitt!
Kjartan Poskitt is a famous author who writes the Murderous Maths and Agatha Parrot books. He thoroughly entertained our pupils on March 11th; telling us all about his books and how he comes up with his ideas. We were especially interested in the maths tricks and challenges he taught us; some of the year 5 and 6 pupils even had a lesson where he shared a nets of a cube/dice making activity. Our whole school ended a brilliant day with a slideshow and talk about his writing and what he hopes to write about next. Thank you Kjartan, we had an excellent day!